Dry eye treatment for severe dry eyes with eye ulcer
It is known that chronic dry eyes left untreated can cause cornea damage, vision impairment and potentially blindness. The following personal story only illustrate the fact that even for severe chronic dry eyes with eye ulcer, TheraLife Eye is able to restore tear secretion glands to secrete balanced natural tears from your own body for dry eye relief.
Severe dry eyes with eye ulcer. Relief by TheraLife Eye from Australia
"
Over the last 21 months since we made our first purchase from TheraLife Inc, my wife has had amazing success with your "TheraLife Eye Enhanced". No other product has come anywhere near to curing her dry eye. Before starting your recommended dosage of "TheraLife Eye Enhanced" and Omega-3 Fish Oil, her dry eye was so bad that she had a very painful ulcer in her eye. As recommended by you, she completely stopped using all other temporarily expedient, proscribed products. Although she understands that she must continue to take a maintenance dosage for the rest of her life, your "TheraLife Eye Enhanced" has completely removed all her eye discomfort and all she has to do if she detects a slight return of mild symptoms, is to temporarily increase dosage for a day or so
." R M, Australia,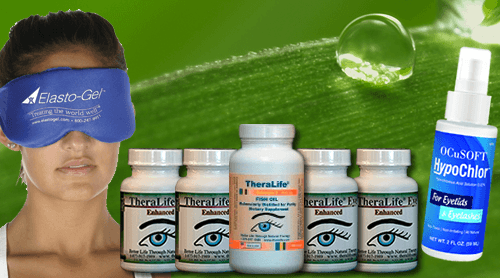 Learn How TheraLife Eye Works
-
Dry eye syndrome result in inflammation. Inflammation shuts down cell functions of tear production glands in your eyes. Theralife Eye capsules work by restoring normal cell functions intracellularly so you can produce your own tears for dry eye relief.
Watch a video
Buy Now
Call and talk to a doctor toll free 1-877-917-1989 US and Canada
International (650) 949-6080
Email to: info@theralife.com