Eat Right to Prevent Eye Diseases- Dry Eyes, AMD, Diabetic Retinopathy
There are many publications about diet and
AMD
- (Age related Macular Degeneration) .
However, there is a general lack of knowledge on nutrition and diet to prevent eye diseases,in particular dry eyes, AMD and diabetic retinopathy.
Here is a general outline for diet on weekly basis.
·
Eat your leafy greens… a handful a day keeps AMD away!
·
Eat cold water fish four times a week. Choose sustainable fish that is low in contaminants, like wild Alaskan salmon, mackerel (not king mackerel), rainbow trout or sardines.
·
Eat orange peppers (they are high in zeaxanthin), two peppers per week, cooked or raw.
·
Eat eggs, including the yolk. Eggs contain lutein which is highly absorbed by the body. Having four per week is ideal.
·
Avoid high glycemic index and high glycemic load foods like refined grains and sugars. These foods are linked to diabetes and AMD.
This is a summary from studies and publications from
Dr. Barbara Pelletier
is an optomestrist and author of

Eyefoods: A Food Plan for Healthy Eyes
For chronic dry eyes, look to
TheraLife
for help. TheraLife targets to restore and revive tear function to relief dry eye with your own tears. No more drops, no oitment, Your own tears to relief dry eyes all day long. All natural, 100% guaranteed.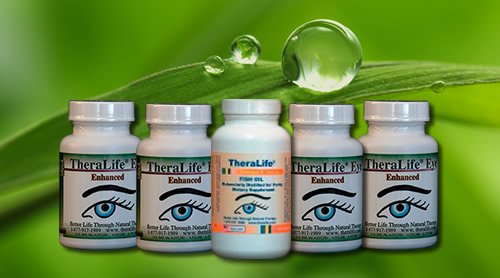 Call and talk to a doctor toll free 1-877-917-1989 US + Canada
International (650) 949-6080