People who suffer from Sjogren's Sydrome often has Rheumatoid Arthritis . This is called "Secondary Sjogrens". It is clear in this case, TheraLIfe Eye Autoimmune is effective in dry eye relief as well as arthritis joint pain relief.
Sjogren's Autoimmune -Amazing Story for Relief of Dry Eye and Rheumatoid Arthritis Joint Pain
"I have been on TheraLife Autoimmune for three (3) month now. My dry eye symptoms continue to improve. The biggest miracle of all is that my painful right knee pain from rheumatoid arthritis continues to improve also.

I have two kinds of arthritis - osteoarthritis and Rheumatoid . Last year my knee point pain was so severe that I could hardly walk, my husband had to do the grocery shopping. After taking the Theralife Autoimmune for about 3 months for my dry eyes, I began to notice that my knee felt better. I am now able to walk normally. I was using a cane and now I don't need to.
I am just amazed ! I was not expecting this wonderful added benefit. Thank you so much TheraLife
."
P H. Crestline, CA
Why does TheraLife Autoimmune Formula work on both Dry Eye and Rheumatoid Arthritis? This formula targets all symptoms of autoimmune disease including dry eyes.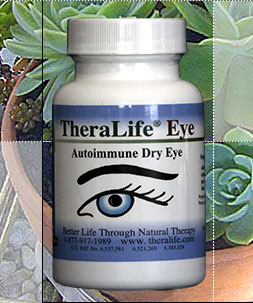 How TheraLife Eye Autoimmune works:
-1. Formulated to restore normal cell functions to tear secretion & salivary glands
-2. Regulate the immune system to reduce flares ( frequent attacks of one's own cells).
What is in TheraLife Autoimmune Eye
-1.Immune regulators- to modulate and regulate the immune system
-2 Strong anti-inflammatories to reduce irritation and inflammation caused by the lack of tear and salivary glands, eye lids and joints.
-3 To provide more energy during the day and aid sleep at night. This is not a caffeine based stimulant, it is all natural.
to learn more:
click here
Buy Now
Watch a video
Call and talk to a doctor toll free 1-877-917-1989 US and Canada
International (650) 949-6080
email : info@theralife.com
Follow us on
twitter
and
facebook.