Contact lenses are also culprits for chronic dry eyes. Now there is a new and different issue.
An increase use of new contact lenses may be creating conrea ulcers at nine times the rate compare to not wearing contact lenses.
A study of over a million Californians in United States showed that people who wore contact lenses were 9 times more likely to suffer from corneal ulcers. Many people do not follow basic contact lens safety guidelines.
Researcher Dr. David Gritz of Montefiore Medical Center in New York told Reuters Health: "As new contact lens innovations become available, and people hear that they can wear these contact lenses for weeks or a month without taking them off. They don't realize the dramatic increase in risk it causes them. Our eyes do need breaks from contact lens wear." He went on to say, "Contact lenses can even act as a bandage over eye irritation, covering up symptoms."
People infected with HIV were also nine times more likely to develop the condition than those who were HIV negative.
Contact lenses provide a surface for tears to evaporate, causing chronic dry eyes.
To learn how TheraLife Eye can help contact lens wearers relief dry eyes, click here
TheraLife Can Help
Let TheraLife Eye restore normal function and relief dry eyes with your own balanced, sustainable tears. Call us and find out how - 1-877-917-1989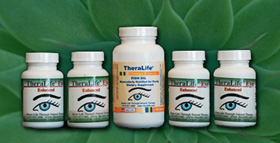 Call and talk to a doctor toll free 1-877-917-1989 US/Canada
International (650) 949-6080
email to info@theralife.com